How the devs behind Driveclub plan to bring the arcade racer back to life
Added: 22.11.2017 11:00 | 0 views | 0 comments



Let's take a second to salute Driveclub, the PlayStation 4 launch title that missed the launch, and then stalled upon its final release thanks to a number of technical gremlins and design oversights. Despite that drama, it flourished into something quite remarkable - a muscular racer with a touch of Project Gotham Racing's flair to its handling and some of Gran Turismo's polish in its impeccable looks. Against the odds, it became what's set to be one of this generation's finest driving games.
All of which wasn't enough to save developer Evolution Studios, sadly, but given the trials of Driveclub this is a bunch that's used to facing up against a little adversity. When Sony decided to draw the curtain on 17 years of making racing games for the Liverpool outfit, the story didn't end there and now, over 18 months on from Evolution Studio's closure, the same team works out of the same Liverpool studio in the same genre.
"Sony wanted to support us and do what they could so we could stay together as a team," says Paul Rustchynsky, Driveclub's game director and the man who oversaw its transformation from its troubled early days to its final form. "Most of us had worked together - I've been here 13 plus years, some of the guys have been here even longer, and we love working together. We've got a shared passion for making racing games, and we wanted to do whatever we could to keep the team together and move on. The great thing was Codemasters happened to be looking for a new studio, we spoke to them and they wanted the whole team - it was a seamless transition."

Hidden Agenda review
Added: 22.11.2017 8:00 | 0 views | 0 comments



Why is Hidden Agenda called Hidden Agenda? Supermassive Games' follow-up to its horror sleeper Until Dawn is a dark and rain-soaked police procedural about a serial killer called the Trapper who appears to strike again just as the man who confessed to the Trapper's murders awaits execution on death row. Two women, a straight-arrow prosecuting attorney and a homicide detective, investigate the crimes. The detective is a little volatile and not above suspicion, but we players know from the start that she's genuinely trying to get to the bottom of the case. The killer's motives are plain. There are no hidden agendas here - so aside from sounding vaguely thriller-ish, what's in that name?
It turns out that, despite being a purely narrative game, Hidden Agenda is named after a game mechanic - and it's very telling that the title doesn't fit the plot. Hidden Agenda has been chosen as the flagship launch title for PlayLink, a wave of accessible, smartphone-controlled party games for PlayStation 4. Players use their phones to hunt for clues within a scene, clear simple quick-time events, and vote on decisions that affect conversations and branching paths in the storyline. This formalises the way groups of friends have chosen to play games like this for years: talking over consequences, arguing about morality or motivation. A competitive mode spices this up by secretly assigning one player the hidden agenda of the title - a choice they must try to get past the group. They win points if their brief is fulfilled; afterwards, everyone votes on who had the hidden agenda and wins points if they guessed correctly. The scene is set for a duplicitously fun time of bluff and double-bluff in front of the TV.
It's arguable how much PlayLink adds to a scenario that you could replicate as a drinking game with some scraps of paper in a hat, but let me state for the record that the tech works pretty well. You download a game-specific app to your phone which then connects without hassle to the PS4, as long as the devices are on the same wifi network. Six players are supported. You use a touchscreen interface to control a pointer on the TV, which is a little laggy but does the job. The app is rough, but the inclusion of a logbook where you can browse updated character bios and check the outcome of 'ripple events' that affect the plot is thoughtful. Sony deserves kudos for coming up with a casual gaming initiative which requires no new accessories to be bought or interfaces to be learned; everyone has a phone and knows how to use it. Consider the barrier to entry well and truly lowered.

Tags:
Sony
,
PlayStation
,
PlayStation 4
,
PS4
,
Apple
,
Turok
,
Thief
,
Sonic
,
Contra
,
Until Dawn
,
Namco
New Video Game Releases Week 45, 2017
Added: 22.11.2017 6:05 | 0 views | 0 comments


• Here is the list of this week's new video game releases. Popular video games released this week are: Need for Speed Payback, Football Manager 2018, Sonic Forces, The Sims 4: Cats & Dogs Expansion, Horizon Zero Dawn: The Frozen Wilds, Telltale's Guardians of the Galaxy - Episode 5, and Minecraft: Story Mode Season 2...
From:
www.videogamesblogger.com
Axiom Verge Publisher Donates to Healthcare for Developer's Son
Added: 22.11.2017 5:42 | 0 views | 0 comments


BadLand Games, publisher of the physical version of Axiom Verge Switch, has announced that 75% its shares will go towards creator Tom Happ's son to cover healthcare costs.
Sonic the Hedgehog 2 Added to Sega Forever Collection
Added: 22.11.2017 1:44 | 0 views | 0 comments


Sega on Tuesday announced that the critically acclaimed Sonic the Hedgehog 2 has been added to its Sega Forever collection.
Final Fantasy XIV 4.15 Adds MOBA PvP and Lute Strumming
Added: 21.11.2017 21:35 | 0 views | 0 comments


Play us a song if you're a Bard or take out an opposing team's power core in Rival Wings with Final Fantasy XIV patch 4.15.
By Odin's Beard! Viking Metal Band Amon Amarth Releases a Video Game
Added: 21.11.2017 20:45 | 0 views | 0 comments



Swedish Melodic Death Metal band Amon Amarth is known around the world for its songs about Norse Mythology. Not content with merely pillaging arenas and concert halls, the famed Viking Metal giants are [...]

Daily Deals: Black Friday Pricing on PS4 and PC Systems and Accessories
Added: 21.11.2017 17:11 | 0 views | 0 comments


Game of Thrones Blu-ray for $11.67 per season, Samsung and Sony TVs, PS Plus, PSVR, and more
BadLand Games to Donate 75% Of Its Axiom Verge Profits to Healthcare for Tom Happ's Son
Added: 21.11.2017 16:30 | 0 views | 0 comments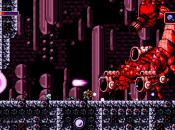 "I just wanted to thank them for their generosity"
From:
www.nintendolife.com
Older articles

»